Ombre
n. A French term meaning "shaded." Usually a multicolored stripe, with colors graduating from light to dark. The color effect is woven into the fabric. Generally produced by arranging different tones in the warp.
I've been noticing a huge trend of ombre in the high fashion world, when I think of Ombre, Prada is the first thing that pops into my mind because of these handbags.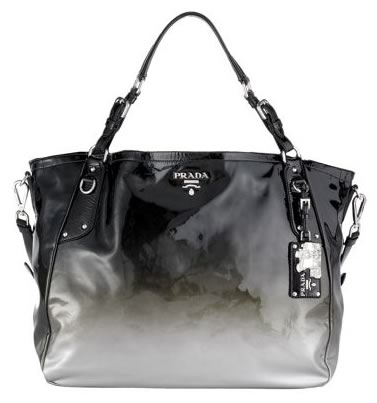 The dress above is a Alberta Ferretti from his Fall 07 RTW collection. Isn't it lovely?
I think a bit of it has trickled into the wedding dress industry. I was lucky enough to attend the Monique Lhuillier trunk show at
Marcella's
. My bridal specialist was so booked that weekend but luckily snuck me in. These were all runway only dresses and would not be in stores until next season. This was one of the beautiful dresses that I tried on.
The ombre is quite subtle but really beautiful in person. I felt that the dress was better for an indoor event so I didn't get it but it was lovely nonetheless. Monique's assistant was at the trunk show so I had a chance to talk to her about a lot of the styles. This one does come in just white if your not into the ombre but for a bride that wants a hint of color I think this would be a fantastic choice. If I was having a Seattle wedding I would totally have gone for this dress and then put my bridesmaids in these gorgeous Melissa Sweet dresses but with a muted gray belt.
And perhaps the most famous ombre dress of them all... Gwen Stefani's Wedding Gown by John Galliano.
Alberta Ferretti Dress: Style.com

Prada bag: Purseblog.com
Monique dress: Brides.com
Melissa Sweet dress: Brides.com
Gwen Stefani pics: Bridalwave