Selling my 2nd dress
4:55 PM
I am selling a brand new and unworn mermaid style dress. I bought two dresses because I wanted one for the wedding and then another one for a "Trash the Dress" type session, meaning I wouldn't care if it got in the water or if the sand got all over it. BUT the dress arrived and it's just not my size and I don't know if I want to go through the effort of getting it altered. It gives me hips that I don't have and I would need the boning taken out. It's a Watters gown, style 5299.

Description from Watters website: "Duchess satin dress with satin ruffled ribbon at empire and trumpet sweep train"

It's a size 2 and I would say it's pretty true to size, unlike most other bridal gowns. The measurements are:
Bust - 34
Waist - 26
Hips - 36.5

If you are interested please email me (click on the "About me" link on the side and then the "email" link) or comment on this post. I'm selling it for $150 + $50 shipping. Paypal or money order only.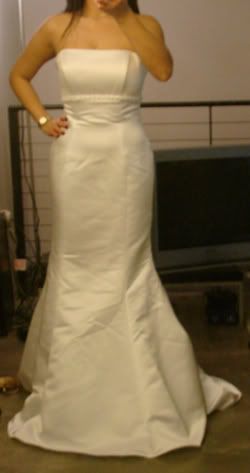 This is what I would like it to look like to fit me correctly.



and here's the side view.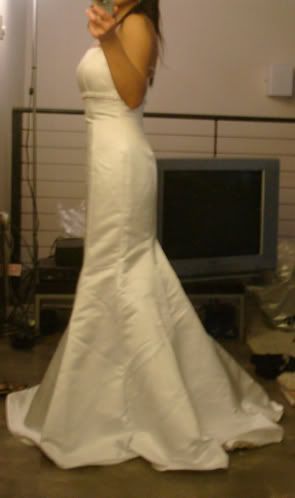 Specs about me: I'm 5'2" but I'm wearing 4 inch heels in the pictures above so you can see there's till quite a lot of room for taller girls or can be easily hemmed. I'm typically a size 0 but I ordered the dress in a size 2 because I seem to have a fuller bust than most size 0's and I'd rather not have them squeezed :). If you are my body type where you tend to have to get a size up to fit your bust and you don't have hips, then you will have to get this altered. Otherwise, I think that would be great for a true size 2.

There are ruffles at the bust line and on the train. I was going to have the ruffles at the bustline taken off so you have that option as well. Here's the picture from the Watters website. Their ruffles are green, but mine is white on white.


It's a great dress and I would keep it but since it's my second dress I just don't feel like going through the trouble of altering it. I'm selling it for under what I paid because I'd really like it to be put to good use by another bride. :) Feel free to contact me with any questions!