I always have too much going on in my life that TV becomes the very very last priority. I never watch TV shows as they happen, I DVR everything and I end up watching them like 6 months later. I also don't watch that many shows. I've never seen an episode of Lost, Heroes, So you think you can dance, Dancing with the stars, etc… The only way I know about these shows is through friends that watch them or Us Weekly! And when I do watch TV it's usually what my husband is watching which consists of football, basketball, the history channel or It's Always Sunny in Philadelphia (which I have come to love). We do have two TV's but we don't like to spend time apart when we are at home so we always just watch whatever the other person is watching. Anyway, long story short, the one show I have on DVR is Gossip Girl and I was
finally
catching up with the episodes I missed and noticed the girls and their crazy colored tights which is what inspired this outfit.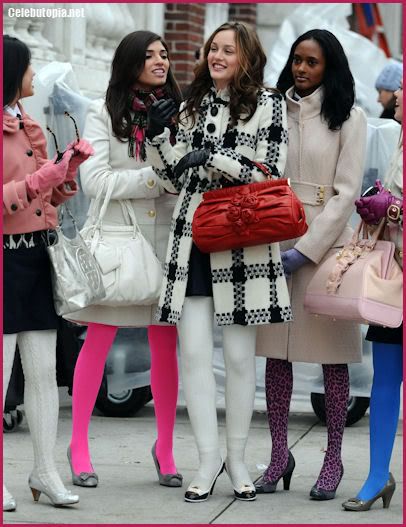 What I'm Wearing:
Cardigan: Rag and Bone
Shirt: J Crew
Skirt: Artizia
Tights: Forever 21
Boots: Sergio Rossi
I've done purple and pink tights before but I think blue tights presented the biggest challenge! I debated on adding that blue cardigan as it might've been too blue but without it, it just wasn't working so I went with it. I felt a bit like smurfette, all I needed was a white hat. 🙂
I'm not completely sold on the brightly colored tights. I thought I would love them but just not sure yet. Will have to try out more and see!
Shop the Lookbook:
:: The Cardigan ::
okay so not totally like mine as it's animal print but I love it!