I always have a lot on my mind and I think I'm just happiest that way. I've never been one that just likes to relax (only on certain vacations do I allow myself to fully relax). I like being a busy body and because I have so many ongoing projects (work and personal) I have a lot of ideas swirling in my head and I have to write everything down. One of my questions I got on formspring was how I keep myself organized. I have several forms of being organized schedule wise like keeping my outlook calendar synced with my iPhone which is also synced with my google calendar. For random thoughts and ideas and also to keep track of some of my scheduling, I bought the Moleskine Color-a-Month daily planner. Of course I could track all of this digitally, especially because I make all kinds of lists in my iPhone but sometimes I just need to write stuff down. I also love that I can go back and see what I was thinking of that day and the notes that go along with it. Plus, these separate month planners are so much smaller than the full moleskins that it's super light to keep in my purse. The colors are pretty too! I keep the rest of the months on a shelf in our place, it's like decoration.
above images from moleskines.com
It's always nice to have something handy to write in but it's even better if it's something cute. Here are some other notebooks I found that I think are super cute!
I like the covers of the two below. so funny. 🙂
Revolver Rioja Large Journal
I'm always attracted to things with hearts on it.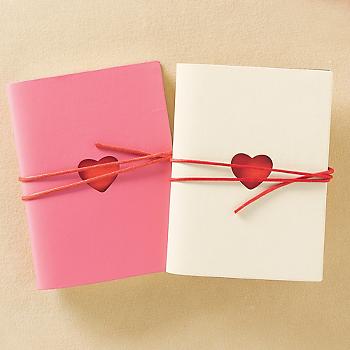 Leather Heart Journal
Aren't these fruit so adorable?
Cutie Fruity Friends
by Asking for Trouble
The combination of the letterpress covers + the bright paper is so pretty!


Bright Booklet by Orange Beautiful
The perfect title for these notebooks


Bright Ideas by Albertine Press
And perhaps some inspirational words to keep your inspirations in?
Eccolo™ We Remember Moments Journal
Eccolo™ You've Got Something to Say Journal
Nina of Femme Rationale also had a great post on day planners, go check out her picks too!
Are you the type to write things down pen to paper too or do you manage everything digitally?