I am so honored to have received two awards this past week…
The always fun to read Tam's Thoughts gave me the Arte Y Pico award.


The creative, talented and savvy, Jessica of Budget Savvy Bride awarded me as a Kick Ass Blogger!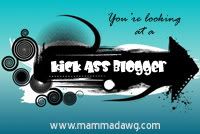 Thank you, thank you! I'm so flattered that you both thought of me.
I completely love every single one of the bloggers that are on my blog roll. I have added quite a few so come check them out!
My favorite new ones are:
Ragamala – the most adorable, fun girl with a great sense of style. She makes me wish that I was just like her when I was younger.
Cupcakes and Cashmere – Cute girl with awesome style. Everything she writes about is totally up my alley.

Think Simple Now – so I don't comment on this blog because I fear that my superficial blog will dumb down this amazingly insightful blog. I actually used to know the girl who writes this blog. What I didn't know was what an incredibly deep and awe-inspiring person she really is. Her writing inspires you to make changes in your life. Her latest post about how she quit her day job made me do some extra hard thinking about what I wanted to do with my life.
Rougemarie – Her pictures alone make this blog but then she goes and ups it with her fabulous outfits and fun stories. She so makes me want to live in Vienna. It looks amazing.
I don't want to specify what award, so choose which one you want or both! 🙂 I mainly just wanted to introduce some new blogs to my readers in case they haven't found them yet.